Metrotastic - Responsive Magazine Theme
Für dieses Produkt ist der Verkäufer

Paranoiax
inhaltlich verantwortlich.
Beschreibung
Metrotastic is a responsive HTML5 / CSS3 Theme for WordPress. It is based on Twitter's Bootstrap Framework – Enhanced with jQuery and custom post types. It's designed with online magazines in mind and comes with a light and dark color scheme and unlimited color options. It looks fantastic on mobile devices, is easy to setup and has some amazing CSS3 and jQuery effects. Everything right out of the box. So what are you waiting for?



Based on Twitter's Bootstrap Framework
Nivo Image Slider
Enhanced with jQuery and custom post types
Light and Dark color scheme with unlimited Color Options
Looks fantastic on mobile devices
Options Admin Panel
Amazing CSS3 and jQuery Effects
Demo uses Light / Orange color scheme!
Screenshots
Screenshot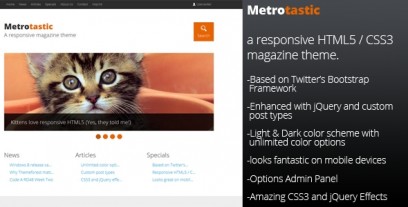 Clandesign übernimmt keine Gewähr für die Vollständigkeit oder Richtigkeit der Angaben
Produkt ID:
#3254
Produktname:
Metrotastic - Responsive Magazine Theme
Verkäufer:

Paranoiax
Status:
gewerblicher Verkäufer (Kleinuntern. §19 UStG)
Dabei seit:
29.11.2009
Produkt:
Templates
Kategorie:
Wordpress
Für Version:
Wordpress 3.3+
Max. Breite:
590px
Hits:
38882
Eingestellt am:
16.07.2012
Letzte Änderung:
18.07.2012
enthaltende Dateien

Alle Dateien als Archiv
.zip

Installationsanleitung
.txt
Bezahlmöglichkeiten
---
---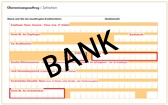 Preisklassen
20€*
optionale Zusatzleistungen
10€* - Installation + Setup
* Gewerblicher Verkäufer(§19):
Es fallen keine Steuern an.
** Gewerblicher Verkäufer:
Preise inkl. 19% MwSt.